CCS Welcomes Prospective Students and Families to the College During UCSB Open House
May 4, 2022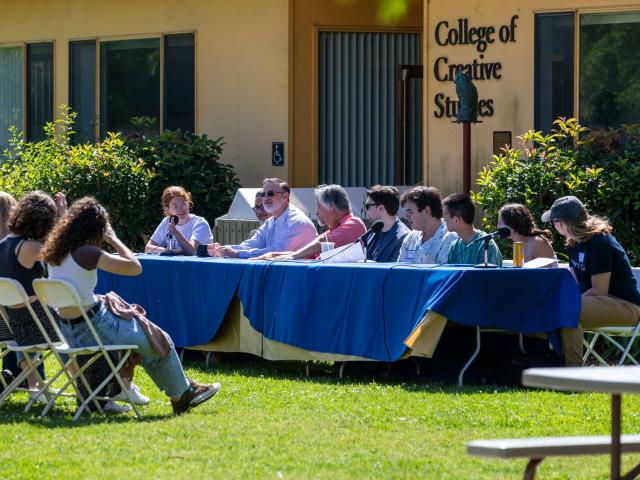 On Saturday, April 9, 2022, UCSB hosted its annual Open House event to showcase the campus to admitted and prospective students and families. CCS joined in on the festivities with faculty and student panels, mock classes, an information table at Cheadle Plaza, and lunch on the CCS lawn. During Open House, CCS students, faculty, and staff highlighted what makes CCS such a unique program within the UC system and how the College empowers experiential learning."It was incredible to see the transformation of admits and their parents with some skepticism at first, coming to me after a panel or at the end of the day with genuine excitement for the college," said CCS Dean Gerardo Aldana.
"It was a great experience meeting with prospective students and feeling their excitement about UCSB. I was especially happy to share my love of CCS with them. Open House was a great opportunity for current and future students alike to get excited about being part of something so special." - Valentina Chavez (CCS Art)
The day started with a general panel discussion which highlighted the unique environment and experiences available at the College—including its tight-knit community, emphasis on hands-on learning, and focus on faculty mentorship—and answered common questions, as well as a Biology Major Panel hosted by CCS faculty advisor John Latto. Following these events were mock Mathematics and Music Composition classes and another College Panel. There was then a break for lunch where prospective students could join current students, faculty, and staff for lunch on the CCS Lawn. The day ended with one more College Panel and a Physics Major Panel hosted by CCS faculty advisor Tengiz Bibilashvili. "There were a lot of prospective students and parents stopping by who did not know much about CCS, and they were curious to see majors like Biology and Math within the College of Creative Studies," said CCS Student Advisor Matt Herrera. "Open House was a great opportunity to share what an amazing place CCS is with them."
Thank you to all who participated in the event and we are looking forward to welcoming the Class of 2026 in the Fall!
For those who were unable to attend, you can learn more about CCS on our virtual open house page.