Farewell to CCS Student Academic Advisor Matthew "Matt" Herrera '17 (L&S Black Studies)
September 12, 2023
The college reflects on student advisor Matt Herrera's journey and wishes him future success
As we bid adieu to CCS Student Advisor Matt Herrera, we reflect on his many contributions, defining moments, and overall journey with both the College and University. From guiding KCSB radio hosts as an undergraduate to advising CCS students in the present, it is clear that Matt's defining attribute is mentorship.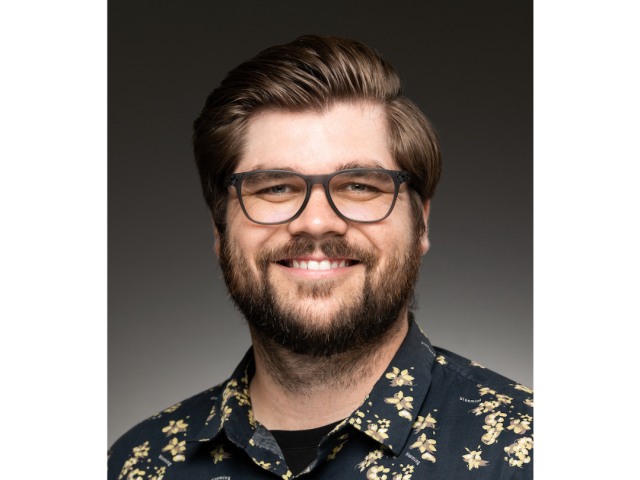 University Roots
Matt Herrera's professional journey with the University of California began as an undergraduate student in UC Santa Barbara's College of Letters & Science (L&S), graduating in 2017 with a degree in Black Studies. As an undergraduate, Matt served as the KCSB Radio Sports Director on campus, where he worked to develop radio hosts, a role he credits as his first experience in mentoring students. 
Upon graduating in 2017, Matt moved to Los Angeles for graduate school, where he had the opportunity to mentor UCLA student-athletes, meaningful work that sparked the realization that he had a passion for advising in higher education. After two and a half years spent in the hustle and bustle of Los Angeles, Matt longed to return home to the central coast and began searching for employment in the area. When his job hunt pointed him to an advising position at CCS, an opportunity to advise self-motivated students on campus at his alma mater, it did not take long for Matt to pursue it.
A Mentor and Friend to All
As a student academic advisor at CCS since Summer 2021, Matt's primary role was to serve and advise students, and he was dedicated to being the best possible resource for both current and prospective students in the College. CCS provides its undergraduate students in all 9 majors with a dedicated faculty mentor and access to a professional student academic advising team that consists of a CCS student academic advisor and Heidi Dinnogen, CCS student affairs manager.
"I…see my role here as a community builder––to bring students, faculty and staff together in engaging ways."

–– Matt Herrera, CCS Student Academic Advisor
A quick conversation with any member of the college reveals the impact he had on the College. Just ask Interim Dean Tim Sherwood, who attested, "If you ever walked into CCS feeling lost and left with a smile, there is a good chance Matt Herrera had something to do with it. He was more than just a staff advisor; he was our go-to for clarity during some difficult times and a thoughtful contributor to our CCS community."
Reflections and Connections
Upon reminiscing on his 18 months with CCS, Matt can't help but boast about the energy, excitement, and curiosity that students bring to the College every day. 
Matt commented: "When the [students] stop in the office, or see me in the halls, and mention the latest project they are working on, or just something that they are passionate about, it really shows the rewarding experiences our students have."
It is this vibrant environment that provided the motivation for Matt to himself get creative in support of students––such as wearing a hammerhead shark costume to the 2023 CCS Commencement in his role to help prepare students for the ceremony, held in Campbell Hall. When asked about this memorable experience, Matt recalled, "the CCS student affairs manager [Heidi Dinnogen] had a great idea to wear these papa and mama shark outfits to help loosen up the students a bit for their big day. So I dressed up in a hammerhead shark outfit for about an hour that day and it got the laughs we were looking for that morning." 
During his tenure at CCS, Matt enjoyed helping usher in the College's newest major, Marine Science, which is welcoming its first incoming class in Fall 2023. Matt was also involved in new traditions at CCS, such as Pi Day, and other student community enriching events. Dean Shewood credits Matt with the newly established All College Rock/Paper/Scissor tournament, noting "While [the tournament] seems like a silly and fun thing, which of course it is, it is not only silly and fun. It was born out of a desire for our students to mingle and get to know each other –– to get up out of their seats and experience each other from day one."
The impact of Matt's experience at CCS extends beyond the College. Through his role as a student academic advisor, Matt connected with people across campus, establishing synergetic networks and fostering key relationships, allowing him to collaborate on a handful of areas. These connections exposed Matt to best practices across campus which he brought to CCS and shared with others.
 "Being at CCS, you see how much dedication there is, not only from the students, but also from the staff and faculty. Everyone has a common goal; we are here to serve the students. That dedication is something that inspires me both personally and professionally."

–– Matt Herrera, CCS Student Academic Advisor
As a parting message, Matt encourages the UCSB and broader Santa Barbara communities to explore the CCS Art gallery, which showcases student and other art shows throughout the academic year. In the Fall quarter, Matt recommends that students consider participating in the CCS Research and Creative Activities Conference (RACA-CON) that will take place in the Fall, during UCSB Parents & Family Weekend. In the Spring quarter, the Art Gallery hosts the Senior Art Show, a series of solo exhibitions from each graduating student artist. Additionally, Matt recommends that students consider applying to the CCS Summer Undergraduate Research Fellowship (SURF) program.
"Matt is full of…great ideas and I am excited that he will take his experience here at CCS with him to new units at UC Santa Barbara!"

–– Tim Sherwood, Interim Dean
Matt's dedication to students and commitment to building community make him an invaluable asset to both the College and University as a whole. As he begins the next chapter of his journey at UCSB, CCS looks to the future, which is undoubtedly bright where it concerns Matt.