CCS Hosts Sixth Annual Research and Creative Activities Conference (RACA-CON)
November 22, 2022
Students showcase research and creative projects at 2022 CCS RACA-CON on November 5, 2022 during UCSB Parents & Family Weekend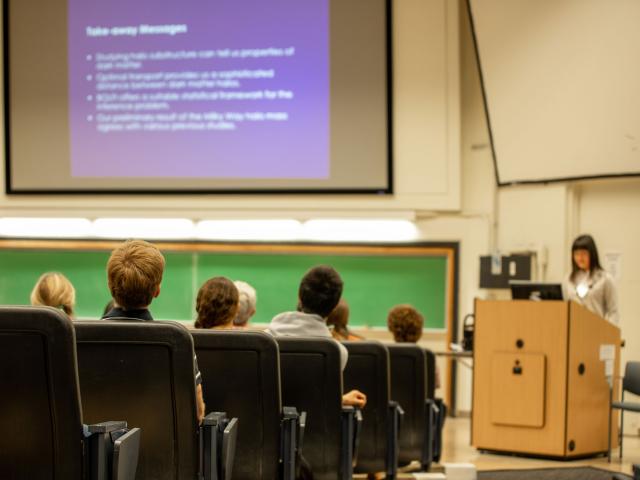 On Saturday, November 5, 2022, the College of Creative Studies (CCS) hosted its annual Research and Creative Activities Conference (RACA-CON) during UCSB Parents & Family Weekend. During the afternoon event at Buchanan Hall, CCS students presented talks and posters about their research and creative projects to a community of faculty, students, parents, families, alumni and friends. "RACA-CON is always a much-anticipated event for the CCS community," said Sophia Wolczko '23 (CCS Physics), one of the presenters at the conference. "It's always so inspiring to see the amazing work [of] my classmates and friends…the projects are so diverse and impressive, and it's a fantastic opportunity to have passionate people explain why their field is so fascinating. I come away each year with a deeper appreciation for other disciplines and ideas about how to connect them to my own."
"RACA-CON is always a much-anticipated event for the CCS community…I come away each year with a deeper appreciation for other disciplines and ideas about how to connect them to my own." - Sophia Wolczko '23 (CCS Physics)
Launched under the leadership of CCS Interim Dean Kathy Foltz in 2017 during the College's 50th Anniversary, RACA-CON has since served as a hallmark event for the College and an opportunity for the UCSB internal and external communities to learn about the remarkable work done by CCS students. It is also a leadership opportunity for students to hone in their presentation skills and be seen as student scholars and is open to all CCS students who have conducted research or completed a creative project. Summer Undergraduate Research Fellowship (SURF) recipients are required to participate as the culmination of their summer fellowship experiences. SURF was established in 1985 as the brainchild of Professor Emeritus of Chemistry Don Aue and became integral to experiential learning at the College as it allowed students to dedicate their summers to full time research and creative projects.
Initially open to students in science and mathematics, during the College's 50th Anniversary, Professor Foltz opened the summer fellowship program to students in all CCS majors as well as established The Create Fund to provide student financial fellowship support. "SURF is an incredible opportunity and characteristic of what makes CCS special," said Sophia, who was a 2021 Dean's Fellow and presented her SURF research project at the 2021 CCS RACA-CON. "Pursuing creative projects such as scientific research as a parallel and equally significant goal as classroom academics is characteristic of intellectual maturity, and better prepares students for what research-oriented careers look like in the real world, with both learning and implementation enhancing one another…I had a fun and enlightening experience, and learned so much about myself and scientific creativity."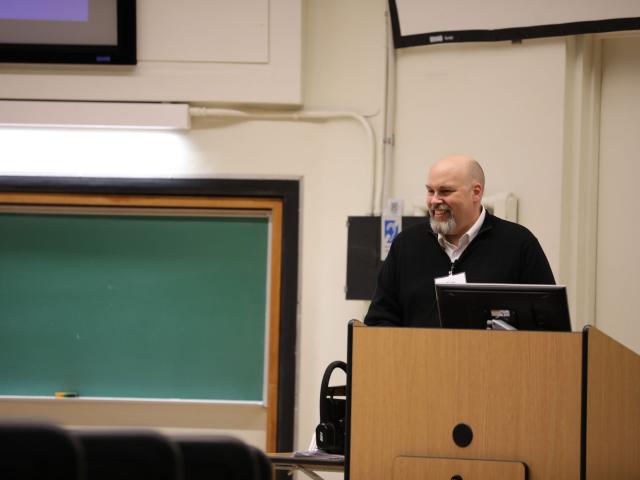 The conference opened with welcome remarks by CCS Interim Dean Tim Sherwood who highlighted recent College initiatives, including the launch of the CCS Marine Science major—the first interdisciplinary major at CCS—and the establishment of the Kathleen Foltz Summer Undergraduate Research Fellowship Fund in honor of former CCS Interim Dean and Professor Emeritus Kathy Foltz. The Foltz Fund will provide summer research fellowship support to CCS students in biology who will be named Foltz Fellows.
"Literature, in my opinion, was always meant to be something cherished between people. At RACA-CON, the people behind Spectrum got the chance to offer up our journal as something to cherish, too." - Lila Singh '23 (CCS Writing & Literature)
Following Professor Sherwood's welcome remarks, students presented short talks and the conference closed with a poster session outdoors by Buchanan Hall. Conference presenter Lila Singh '23 (CCS Writing & Literature), an editor of the CCS student-run literary journal, Spectrum, commented, "I was honored to get the opportunity to introduce more people to Spectrum and to literary publishing. Our little magazine has been around since 1957 [the oldest literary magazine of art and literature in the UC System]—a testament to the loving efforts of generations of student writers—and it's so exciting to share a bit of that history with the community!" She continued, "At RACA-CON, I was able to demystify the publishing process for those who were interested, sharing the details of how each edition of Spectrum is created. Through conversations with the people who stopped by our table, I got the opportunity to connect with writers, future editors, and readers—all of the people essential to making a journal like Spectrum possible."
Congratulations to all RACA-CON presenters and we are excited to see everyone next year to once again celebrate CCS student success at 2023 RACA-CON!