In Memoriam: Professor Adrian M. Wenner, CCS Provost (1989-1993) is Remembered (1928-2023)
August 10, 2023
Wenner's legacy continues to inspire curiosity and a love for exploration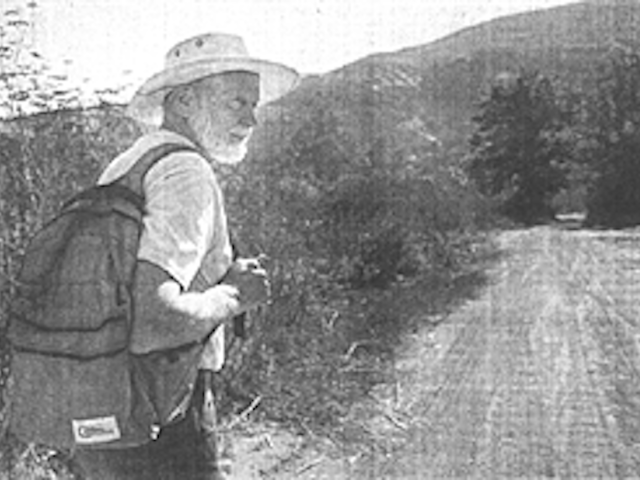 It is with a profound sense of loss and deep respect that we remember UCSB Ecology, Evolution, and Marine Biology (EEMB) Professor Emeritus Adrian M. Wenner, a luminary in the field of biology and a cherished member of our College of Creative Studies (CCS) community.  Professor Wenner passed away recently, leaving behind a legacy that continues to inspire curiosity and a love for exploration.
As a part of our CCS Biology Faculty from 1962-1993, Professor Wenner's relentless pursuit of truth led him to challenge conventional wisdom and unlock new understanding. His pioneering work in the study of bees garnered both controversy and acclaim, reshaping how we perceive these essential creatures. Wenner's theory, challenging the widely accepted belief in bee communication through dance, sparked vibrant debate and marked him as a maverick in his field. His book, "Anatomy of a Controversy: The Question of a 'Language' Among Bees," remains an influential work, reflecting not only on his research but on the scientific process itself.
Professor Wenner's journey began in rural Minnesota, where he grew up in a family of beekeepers. After serving in the Navy, he went on to pursue his passion for science, eventually earning his Ph.D. in Zoology. His fascination with bees led him to discover a peculiar pulsed sound made during their waggle dances, and his subsequent research shifted our understanding of bee behavior.
Beyond his pioneering research, Professor Wenner was a devoted educator and mentor. His dedication to students was outstanding, whether he was leading field trips, encouraging hands-on research, or guiding the college as our third Provost from 1989 to 1993. He played a vital role in establishing Computer Science as the College's eighth major and initiated a groundbreaking lecture series that bridged the gap between science and humanities. Upon retirement, Professor Wenner continued to leave his mark, particularly through his work on eradicating non-native European bees on Santa Cruz Island—a first-of-its-kind achievement. 
Today, Professor Wenner's legacy endures through the Adrian Wenner Historic Insect Collection at the Cheadle Center for Biodiversity and Ecological Restoration (CCBER) at UCSB. His spirit lives on in the generations of students he inspired and in the colleagues he engaged with in lively and critical thinking. As we reflect on the life of a man who was never afraid to challenge the status quo, we recognize that Professor Wenner's contributions to our college and to the world of biology are immeasurable. His adventurous spirit, profound intellect, and commitment to truth-seeking will be deeply missed, yet continue to resonate in our College for many years to come. 
With heartfelt condolences.
—Timothy Sherwood, Interim Dean, College of Creative Studies 
Celebrating the Life of Professor Adrian M. Wenner
These stories and testimonials illustrate the breadth of impact Professor Wenner had at UCSB as a professor, researcher, leader, mentor, and countless other roles. Those interested in providing a story or testimonial to post in loving memory of Professor Wenner, please send to Venilde Jeronimo (venilde@ucsb.edu). 
"Adrian hired me as CCS Associate Provost, and I became acting Provost after he unexpectedly took early retirement. I spent a week with him on Santa Cruz Island, when he was identifying hives of European honey bees so that they could be eradicated (which was successful and resulted in a return of the native bee population). I spent my time painting the butts of honey bees with color coded drops of nail polish so that he could track their flight back to their colonies. They are surprisingly docile animals, and didn't mind the nail polish at all. We drank a lot of beer and had a lot of fun that week!  Adrian also loved gardening. He had a large garden, and after retirement used to sell his produce at the Farmers Market."

 —William Ashby, Associate Provost (1987-1992); CCS Provost (1993-2006) 
"Adrian epitomized the spirit of CCS and of its students—an ever-enquiring generalist, undeterred by the norm or by expectations, seeking to understand and to communicate.  Equally at home in entomology, marine biology, general natural history and in gardening (I remember buying his cherimoyas at the Santa Barbara Farmers Market), he encompassed a breadth of disciplines, all of which he approached with a strong critical mind. His commitment to the spirit of CCS and to the pursuit of undergraduate research is perpetuated in The Adrian M. Wenner Scholarship Fund at the College.  He will be missed; his inspiration lives on." 

—Bruce H. Tiffney, CCS Dean (2006-2016); CCS Interim Dean (2018-2020 & summer 2022)
"I am very sorry that EEMB Professor Emeritus Adrian Wenner passed away last week. His research focused on the division of labor in bee colonies, the flight speeds of honey bees, and the pulsating sound in the waggle dances. But he also contributed to other fields and made a big impact on the students' experience through his mentorship but also through him establishing The Adrian M. Wenner Scholarship Fund that will support students at CCS participating in scientific research projects. Professor Wenner worked as a beekeeper, a photographer, a timber cruiser, an electronics technician for the Navy, a teacher and principal in an elementary school, and a high school teacher in mathematics. He was appointed to the UCSB faculty in 1960.  While I never met him, he had a fascinating life and humanistic spirit."

 —M. Debora Iglesias-Rodriguez, Chair, Department of Ecology, Evolution and Marine Biology
"Adrian welcomed me to campus in the mid 90s and was always a helpful, generous, and inspiring colleague. John Carbon [now MCSB Professor Emeritus] gave me a copy of Adrian's book, Anatomy of a Controversy, when I arrived at UCSB. I read it in one sitting, soon after had a 3+ hour lunch discussion with Adrian about it, and have followed the bee communication research field closely ever since. I know many students benefited from Adrian's teaching and mentoring as well.

—Kathy Foltz, CCS Biology Faculty; Professor Emeritus of Molecular, Cellular, and Developmental Biology (MCDB); CCS Interim Dean (2016-2018)
"As both a mentor and a scientist Adrian embodied the philosophy and joy of the College of Creative Studies. He was always supportive in helping me create and map my journey to be the scientist that I wanted to become. To him, science and education was a joy and he taught me how to embrace that wonder. He was always available to meet and help me navigate my classes. He did so with a smile and with an enthusiasm that made me feel so welcomed and supported. I try to do this with my own undergraduate advisees. I still feel the same way today as I did as an undergraduate student sitting in his office, listening to his passion around his fieldwork on Santa Cruz Island, and knowing that I too could have a career filled with passion and wonder.  I loved my UG days at CCS and UCSB so much. I told Adrian I never wanted to leave. 'There comes a time when every mother bird has to make the baby bird leave the nest...It's time to fly," he said………So I did.'"

—Angela M. Belcher '91 (CCS Creative Studies) '97 (UCSB Ph.D. Chemistry), James Mason Crafts Professor of Biological Engineering and Materials Science; Member, Koch Institute for Integrative Cancer Research; Head, Department of Biological Engineering, Massachusetts Institute of Technology (MIT)
"I was so sorry to recently hear of Dr. Adrian Wenner's passing. As a freshman in biology at the CCS in 1968, I was most excited to hear that I would be learning in a classroom, seated around a table with a professor and a small number of students. In addition, I would be getting experience working in a professor's laboratory. One of the first professors I met was Dr. Wenner whose enthusiasm and excitement about the research he did inspired me. I had wanted to pursue studies in animal behavior, so I was especially excited to learn about doing research with Dr. Wenner on honeybees. I have fond memories of standing at various small platforms in the field where dishes of nectar would attract the honeybees. I kept track of the bees' comings and goings and their behaviors by recording the identifying numbers applied to their abdomens along with my observations. Occasionally, I had to paint on the numbers myself. I also got to visit actual honeybee hives and taste the honey! By my sophomore year, I applied for and received a President's Undergraduate Fellowship to study orientation behavior of beach hoppers under the supervision of Dr. Wenner. As a result, I received first-hand experience in conducting research and writing a research paper. As I write all of this many years later, I realize that my time at the College and my learning with Dr. Wenner were among my most memorable experiences. For that I am truly grateful!"

–– Doris Bull Kraus '72 (CCS Biology)
"[Professor] Wenner frequently took students to Santa Cruz Island, where we collected insects, swam in La Cascada, and stayed in the rustic field station that preceded the more deluxe facilities now provided. He didn't have much in the way of formal assignments, but wanted us to experience the place as a microcosm of California habitats. Once he drove a group of us up one of the tall hills, pointing out the oaks, the valleys, and the different places where we could find insects. Then he dropped us off individually and told us to walk back to the station by ourselves, about a six- or seven-mile hike. I'd never been alone in wilderness before, and I was more than a little intimidated. But I grasped my insect net and started hiking, figuring that I couldn't get too lost as long as I kept going downhill. It took several hours, but we all made it. I never asked him why he thought it was important that we go separately, but it was a memorable experience in paying attention to my surroundings and being alone with my thoughts. It's too easy to conclude that Wenner taught me to see the world more critically, or to notice the small lives that are all around us."

––Marlene Zuk '77 (CCS Biology), Regents Professor, Department of Ecology, Evolution and Behavior, University of Minnesota
Read Marlene Zuk's full testimonial of Professor Wenner.
Further memories of Professor Wenner's impact on the College and its students can be found in the 50 for 50 story on Adrian M. Wenner written as part of the College's 50th anniversary celebration in 2017-2018.
Professor Wenner's appreciation for the CCS students who supported his field research on the Channel Islands motivated him to give back to the College. He established The Adrian M. Wenner Scholarship Fund that will support CCS students participating in scientific research projects.
Refer to the CCS website for further information about the College.
Refer to the Department of Ecology, Evolution, and Marine Biology website for further information about this department.