Reflections from an Artist: Celebrating Linda Ekstrom '82 (CCS Art) & '96 (UCSB MFA in Studio Art)
January 4, 2023
CCS Book Arts Faculty Starts a New Chapter
Early Years: Making Things from Anything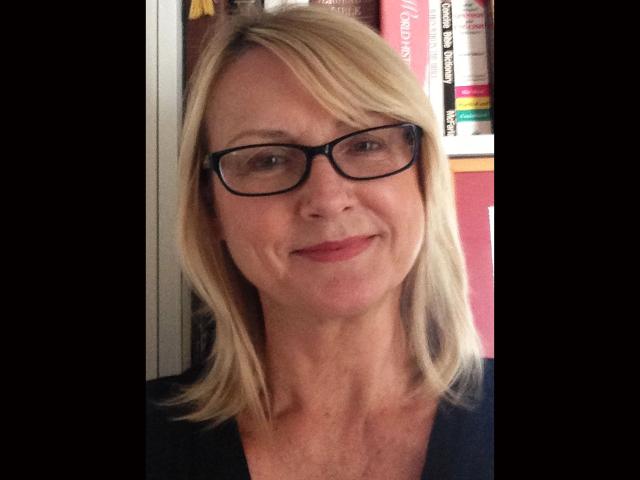 Since childhood, Linda Ekstrom, who retired from the CCS faculty in June 2022, has had a love affair with art, continually seeking ways to create and draw. "I would get up before the family was up then I would be doing things, making things. I had this impulse at a very early age to try to make things like clothing for my dolls or little shelters for my toys that I was playing with," said Linda. "I'd grab the blank sheets that came in my father's shirts, the cardboards that were in his shirts from the cleaners and I would draw on those. I was always looking for things to draw with."
 

"I had this impulse at a very early age to try to make things…"

- Linda Ekstrom
While Linda's passion for art was first recognized as early as elementary and high school where she won awards, it wasn't until she came to the College of Creative Studies (CCS) that Linda decided to pursue a career in art.
"Linda Ekstrom has been an astoundingly generous colleague every single day she devoted to CCS. I admire and have learned from her resilience, sense of humor, and broad knowledge base in the arts. I will miss her presence and wish her all the best in her new chapter."

- Jane Mulfinger, UCSB Department of Art Professor and CCS Art Faculty
Letting Fate Evolve the Student Artist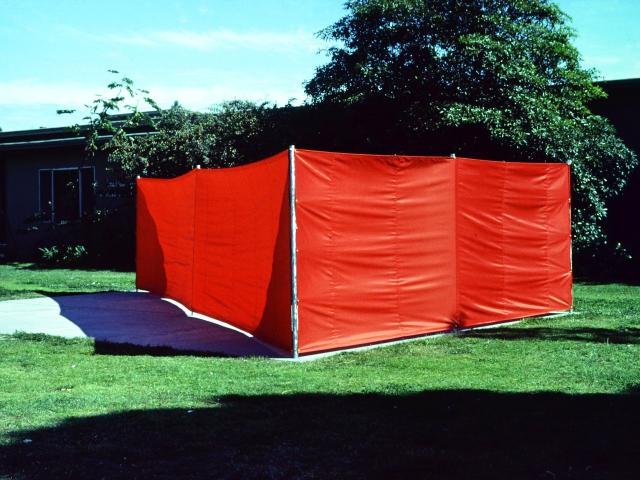 Linda did not start college immediately after high school. She worked and then started her own business designing and making custom swimwear. Following that venture she began pursuing a degree at Santa Barbara City College (SBCC). While at SBCC, an art faculty and CCS alumna—Linda Benet '70 (CCS Art)—recommended CCS. As Linda looked into the College she realized that it might be the perfect environment for her creativity to flourish. "At the time—it was the early 80s—CCS was recruiting mature students who could work independently. I was older. I already had a lot of ideas. And so, I was able to work on my own just fine," said Linda. At CCS, Linda had the opportunity to dive into her art and be exposed to a wide variety of professional artists that came as visiting faculty.
Even though Linda mainly focused on oil painting, she received a President's Undergraduate Fellowship Award at UCSB—this program later evolved into the Undergraduate Research and Creative Activities Award (URCA)—for $450 to build a site-specific sculpture on the concrete pad on the lawn in front of the CCS building.
"It [large-scale sculpture displayed on the CCS lawn] was a wonderful experience and the first time I had to truly hand over my work to fate."

- Linda Ekstrom
The concrete pad was originally poured in the 1980s for UCSB students to create large, temporary sculptures. Linda was the second student artist at UCSB to display an art piece in the outdoor space, unveiling her art to a public audience. "It was a wonderful experience and the first time I had to truly hand over my work to fate," said Linda. "But, I also had the chance to see people actively engaged with my work by finding creative ways to utilize the interior space for their daily practices. It expanded well beyond what I had envisioned when I created it."
Inspiration From Within the Artist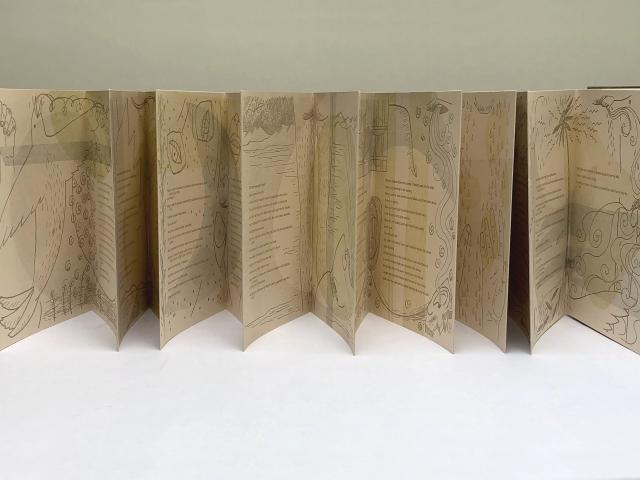 Linda began working locally in Santa Barbara as an artist upon graduating from CCS in 1982. Her focus on symbolism, narrative, and story—especially women's stories and feminism—remained consistent in her art, but she found her artistic medium began to change due to the limitations of her workspace. "I was able to attend college and maintain an art practice while being married and with a daughter," said Linda. "Yet after graduation I found it was pretty hard making oil paintings in a bedroom studio with carpet…so I started shifting my work." Linda's work became smaller and more detailed while also exploring different themes around women's stories in history and in the Bible. During those early years, she began teaching at SBCC where she was encouraged to pursue a master's degree to have greater teaching security.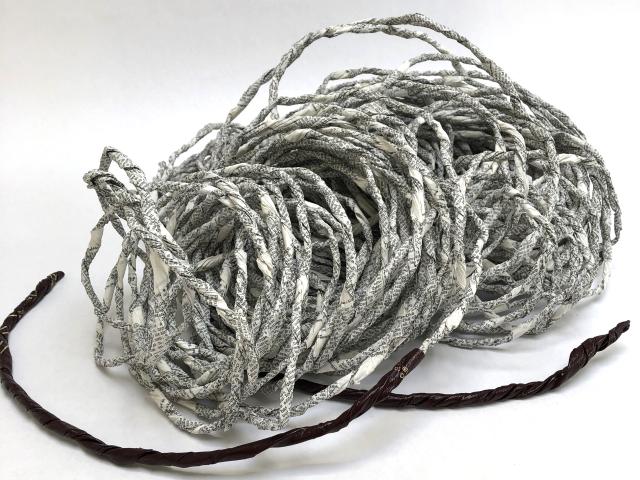 "I'm just interested in the spiritual realm and life in general. It doesn't have to be within the institutional religion. I just find that such a powerful thing to explore and that it's been an incentive in my work and an inspiration in my work."

- Linda Ekstrom
Fifteen years later, Linda returned to UCSB to earn an MFA in Studio Art. In graduate school, Linda started exploring books and printmaking, particularly the altering of books into sculptural forms. She also took courses in religious studies and in feminism, and expanded the focus on the spiritual nature of her work. Raised Catholic, Linda began focusing on issues in the Catholic Church in her art through a feminist lens.
Notable artwork she created as a graduate student included two Bibles she placed in a beehive, a piece where she cut out all the womens' names in the Bible, and a piece where she matched her menstrual cycle to the liturgical calendar. "Much of my work is spiritual in nature while also being a critique of the institutional religion of my tradition," explained Linda about her artwork.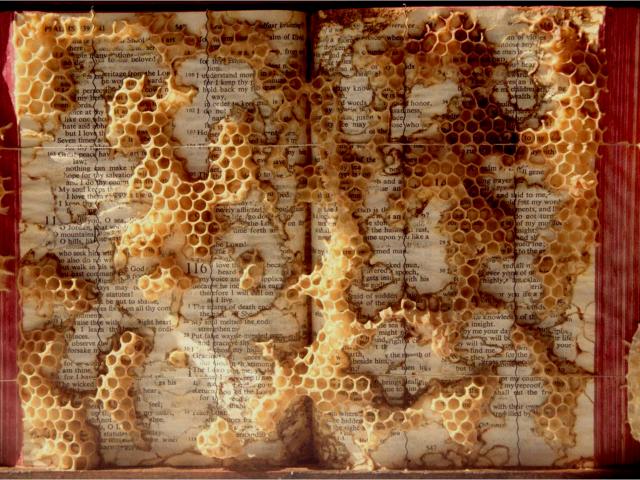 "My work is very much text-based. I do a lot of work around words and using words in visual ways or I alter books."

- Linda Ekstrom
Teaching + Book Arts
"[Linda] is such an inspiration, not only in what we do as artists but also how we carry ourselves as students, as people."

- Tay Graham '17 (CCS Art)
Following graduate school, Linda continued teaching at UCSB and SBCC while exhibiting her work with Frumkin Gallery in Los Angeles and in various solo and group exhibitions throughout the US. In 2000, Linda returned to CCS Art, one of the eight, now nine, majors at the College, as a member of the Book Arts faculty. Officially founded in 1988, Book Arts is one of the three emphases within the CCS Art major offering an exploration of text-based art where students learn how to sharpen their understanding of typography, books, and print technologies.
"Linda is no doubt an important mentor to me and has guided me through a lot of my highs and lows while I was a student at CCS. I will always be thankful to her."

- Phoebe Jin '20 (CCS Art)
For over two decades, Linda taught courses through the College and mentored Book Arts students, while continuing her own art practice. "I think to be an authentic art instructor, you really need to maintain an art practice," said Linda. Roshelle Carlson '20 (CCS Art) & '20-'21 (CCS Book Arts Artist in Residence) recalls Linda's commitment as a faculty mentor, "Linda is a dedicated professional who has always cared deeply about the academic, artistic, and personal success of her students, and of the success of the Book Arts program at CCS. She has offered not only academic insight and wisdom, but has also shared her extensive knowledge of printmaking and book arts to keep the field thriving, inspiring students to do the same." Per Phoebe Jin '20 (CCS Art), "Linda has been an incredibly valuable part of CCS and the Book Arts program. The amount of support she has given me is something I will always remember. I would always go to her, anxious about my work, ideas, and whatnot, but I would always leave with more confidence and a clearer picture of what I wanted to do. I could always count on Linda to give me honest feedback without any judgment."
"It's been inspiring to have worked with Linda at CCS. I am especially grateful for all the guiding conversations we've had together. Her dedication and commitment to students' individual journeys in artmaking is truly influential."

- Iman Djouini, Assistant Teaching Professor at CCS and UCSB Department of Art
One of her favorite aspects from her own experience as a CCS student was being treated as a junior colleague by her instructors and visiting artists. In turn, Linda employed this philosophy throughout her own career as an instructor. "As a faculty member, I remember this about my time at CCS—I took my students seriously," said Linda. "I believe that each art student has the potential to go on to graduate school, to have a professional career in the arts." Roshelle appreciated Linda's dedication to her students. "Seeing students for who they truly are both within and outside of their artistic practice, Linda recognizes their potential and helps them become more developed artists," explained Roshelle. "Her attentiveness speaks for itself when she reminisces fondly of former students, recalling their names, stories, and successes. Her kindness and insight has extended beyond her reach of CCS, as she continuously provides her guidance to those who seek it."
"In the time I have known Linda, she has graciously fulfilled the roles of academic advisor, lecturer, mentor, and friend. She has so often given me advice, from specific project details to life goals, and I would not have been as successful in my artistic career without Linda's unwavering support and counsel. She is a selfless educator, artist, listener, guide, and a truly amazing human being."

- Roshelle Carlson '20 (CCS Art) & '20-'21 (CCS Book Arts Artist in Residence)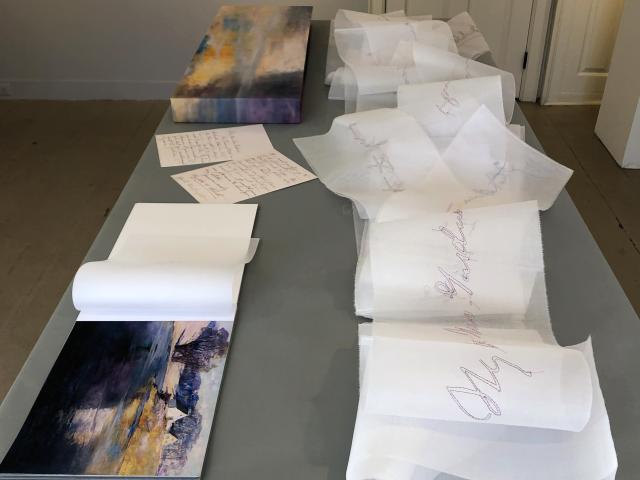 "Working with Linda, I admired her genuine respect and support for each student as an individual. That was her job as faculty, but it is also her nature, and one of her many strengths."

- Hank Pitcher, CCS Art Faculty
Now as she steps away from teaching, Linda will pour even more passion into her art practice. Her most recent exhibit was a contribution to The Conceptual Stitch at the Concord Center for the Visual Arts in Concord, MA. Curated by Jane Deering and part of Concord's Centennial Year which honored founder and painter Elizabeth Wentworth Roberts, the Conceptual Stitch exhibit was inspired by a series of paintings Roberts did around women sewing for the war effort in World War I.
Linda's contribution to the exhibit, titled My Dear Mrs. Gardner, highlighted Roberts' own words. Inspired by a letter written by Roberts to Isabella Stewart Gardner—an art collector who had purchased a painting from Roberts—Linda created a scroll with the handwriting from the letter. Linda then put the scroll in a box she designed using Roberts' painting that she printed onto cloth. In her artist statement about the work, Linda explains: "Before deciding on a direction for the exhibit, I surrounded my studio with three large format prints: one of Elizabeth Wentworth Roberts painting in her studio, another of a map of Concord c. 1906, and an enlargement of a letter she wrote to Isabella Stewart Gardner when she purchased one of her paintings. I kept gravitating toward the letter with her lovely handwriting and was inspired to create an embroidered scroll that traced her script. I wanted to bring into material form some of the personal aspects of her life as an artist and her emotional commitment for her practice. Memory enables us to collapse time and space. As I embroidered the marks of her hand, present time was passing and reaching back to find her in the past."
In addition to My Dear Mrs. Gardner, Linda also created art pieces to honor Concord's literary history by altering books by Louisa May Alcott, Ralph Waldo Emerson, Nathaniel Hawthorne, and Henry David Thoreau. "The literary history of Concord is rich with writers, many who have been central in the canon of American literature," said Linda from her exhibit statement. "Their texts have been read and examined down through the ages for both pleasure and through a scholarly lens. I wondered how I might express some of the spirit and energy of these writers' lives and their words, and this was the challenge I set for myself."
"I like the ritual dimension in work."

- Linda Ekstrom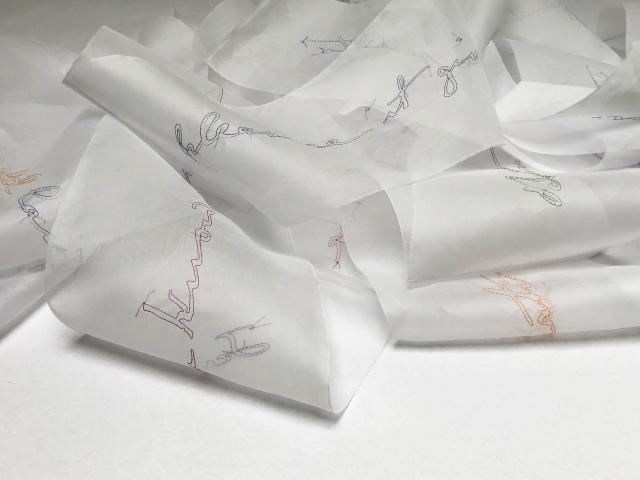 Linda's time and labor intensive process results in highly detailed and hand-crafted pieces, like My Dear Mrs. Gardner, which she worked on from Spring until Fall 2022. For Linda, this meticulous act of creation has a strong spiritual and ritual aspect. I like the ritual dimension in art practice" explained Linda. "When I'm stitching or cutting out all those letters and engaging in repetitious work, I enter into a definite type of ritual behavior…like practicing a meditation."
Linda's artistic process starts long before the physical creation. First, she finds inspiration for her art and then allows ideas to evolve and grow. Often, these ideas arrive unexpectedly. "Ideas kind of hit me out of the blue," said Linda. "But I believe…what might seem like it's coming from out of the blue is really coming from all the things we've been looking at and thinking about. I'll get an idea for something and it kind of percolates in my brain for a while. And I'll write down that idea and it might be some time before I get started on it. There's kind of a list going on of [ideas] and then once I start on something, generally that starts generating more ideas."
"There's kind of a list going on of [ideas] and then once I start on something, generally that starts generating more ideas."

- Linda Ekstrom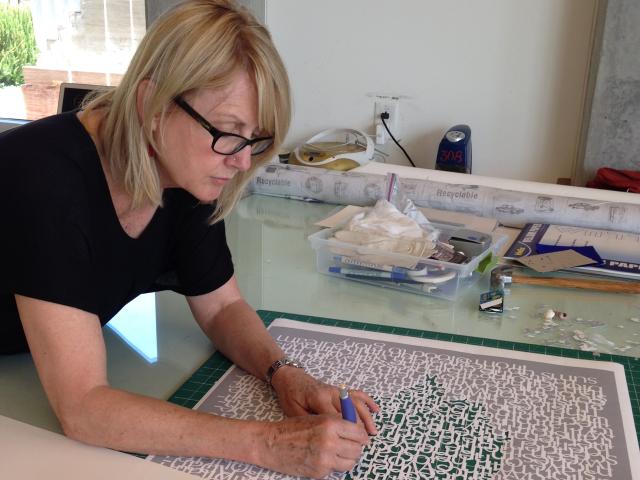 A primary source of inspiration for Linda comes from literature. Apart from the authors she focused on for The Conceptual Stitch, certain authors, such as Emily Dickinson, Rebecca Solnit, and Flannery O'Connor, have been particularly inspirational for Linda throughout her life. She reads works by these authors not to research them, but to search for inspiration. "I read, find ideas, sort text…and then pull out the things that inspire me," explained Linda. After that, the original author(s) sometimes falls away from the work allowing the work itself to take on a life of its own.
Additionally, after Linda starts creating an art piece, it may branch into other pieces or simply grow into a new concept. "Often as I'm working, that's when I really find out what it's about and that's when I begin to understand it," said Linda. "Then it develops and it might become something that I really didn't think I was going to make in the first place."
Engagement as Part of the Art Process
Audience participation and engagement is another crucial aspect of Linda's art process, one that can illuminate components of her work that she hadn't expected. "When people start looking at the piece and talking to me about it, then I really understand new aspects from their response to the piece," explained Linda. "It's like they're telling me something about the work I didn't recognize. An example of this is from an art piece she made in graduate school where she put a Bible into a beehive. "One of my peers in grad school, Siobhan Arnold, looked at it and she said, 'Oh, it's like the matriarchal system of the bees overlaid onto the patriarchal system of the Bible,'" said Linda. "And I wasn't even thinking of that when I was creating the work. I always appreciated what [she] said and how important the viewers' perspective is to artists understanding their own work. That's the mystery of, or the magic of, interpretation. When an artwork leaves the studio for the public's domain, its meaning expands."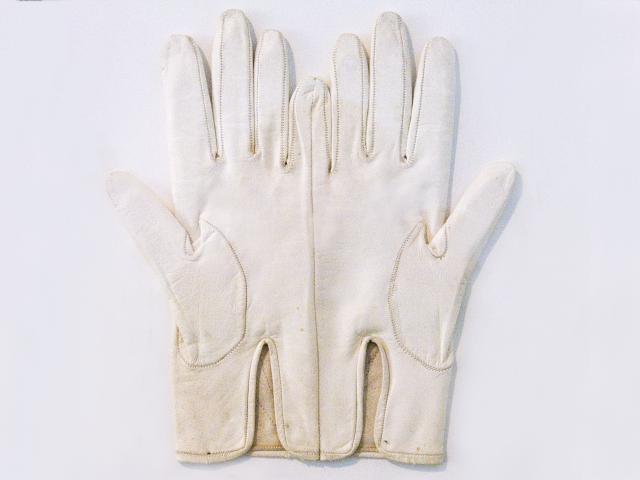 In a work she considers a self-portrait, "Conjoined," Linda sewed two gloves together. "'Conjoined' is a work I created after thinking about the centrality of our hands in art making. It represents the tension of having so much freedom in what we might express, while also being bound by what we often cannot achieve," explained Linda. "That's always the challenge for artists."
Still, Linda remains unabated in her lifelong passion for creativity and plans to continue pushing the boundaries of her art. Linda is excited to start on a new project as she works her way through her list of ideas. She is currently preparing for a solo exhibition at the Westmont College Museum for Fall 2023, which will feature both a retrospective and her recent work.