Welcome to the 2022-23 Academic Year
September 27, 2022
CCS hosts 2022 All College Meeting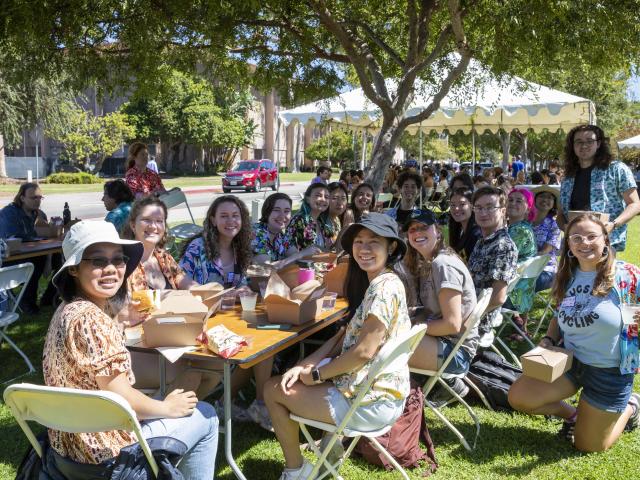 On September 21, 2022, the College of Creative Studies hosted its annual All College Meeting. Dating back to the start of CCS, this annual College tradition welcomes students, faculty, and staff back to campus and to the new academic year.
"This year's All College had great student support, with plenty of students showing up with their Hawaiian Shirts for the day - the energy of the day was just as vibrant as all the t-shirts everyone wore. There also seemed to be very fruitful connections from students, which is what All College is all about and a message the interim Dean, Tim Sherwood, made sure to encourage." - Student Advisor Matt Herrera
The event started off with breakfast and was followed by an address by new Interim Dean Tim Sherwood, who encouraged students to get to know each other and to build community. Next were introductions by the CCS faculty and a spirited Rock-Paper-Scissors tournament led by Student Advisor Matt Herrera. The final showdown was a duel between Marianne Arriola '23 (CCS Computing) and incoming student Julia Novick '26 (CCS Computing), with Marianne claiming victory and the 2022 CCS Rock-Paper-Scissors Champion title. After the competition, students and faculty gathered for their major meetings, before coming back together for the 2022 All College photo and lunch.
Welcome back to campus and we wish you a fantastic 2022-23 academic year!
View all photos from the 2022 All College here.