Reflections by Kailyn Kausen (CCS Writing & Literature '20)
October 8, 2020
Recent alumna reflects on her CCS student life and academic experience
This story is written by Kailyn Kausen (CCS W&L '20) who shares insights as a Writing & Literature student over her four years at CCS.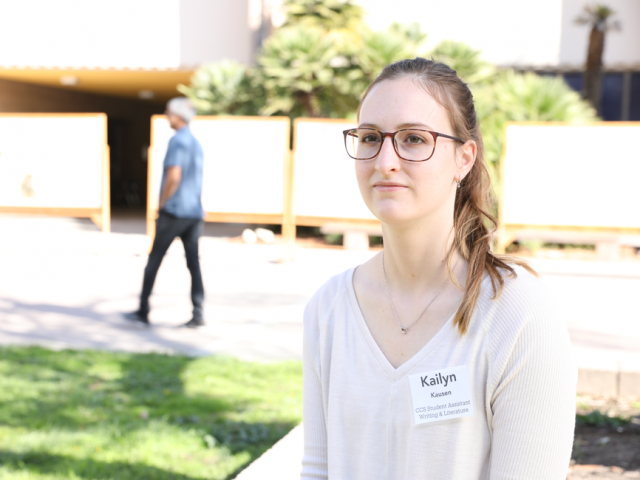 At the College of Creative Studies (CCS), I majored in Writing & Literature. Specifically, I focused on fiction and dystopias, wrote a dystopian novel, and began a foray into short stories, creative non-fiction, and academic research.
As an introvert and first-generation college student, the small class sizes and individual mentoring at CCS made me more comfortable to ask questions, speak up, and receive more personal learning. The small, student-centered approach led me to participate in activities including the Spectrum literary journal, Prose and Cons writing and editing club, CCS annual Research and Creative Activities Conference (RACA-CON), Santa Barbara Writers Conference (SBWC), and my first job as a CCS Student Assistant, where I wrote articles on student, faculty, and alumni achievements for the CCS website.
I feel thankful and lucky to have ended up at CCS, since I only learned about the program from a pamphlet my mom picked up while touring colleges for my older sister, Ashlyn Kausen (Mathematics '19 and Teacher Education Program '20), who also attended UC Santa Barbara. None of us knew much about CCS or the Writing & Literature program—the website was just getting started with articles at the time—and when it came time for me to decide which college to attend, my mom and I visited a class at CCS, where two students sat by themselves in 160B, critiquing each other's writing. The professor had cancelled class for the day because his daughter was sick, but the students were still there, more concerned about their writing than attendance points. As we left, my mom said, "They talk like you." I'd never realized other people didn't "talk like me," but felt an almost immediate connection with other writers in my program and CCS students in general once I arrived at CCS.
The two most influential aspects from my college education were the Santa Barbara Writers Conference and the junior tutorial with my advisor Kara Mae Brown.
After my first and second years as an undergraduate, I received a scholarship to attend the Santa Barbara Writers Conference provided by SBWC to a small number of W&L students, and I attended again in my third year without a scholarship. The CCS W&L program encouraged us students to pursue what we loved about reading and writing through out-of-classroom experiences like the SBWC. The conference includes classes, workshops, speakers, and writers from across the country. I was able to share my work with an established audience and listen to their reactions. For one story, which I shared at a late-night workshop in a hotel conference room packed with so many people some were sitting on the floor, I got the response, "I think that's the funniest thing I've heard in four years." That comment stuck with me and as I shared more pieces across genres, I realized my characters and stories with a sense of humor were the ones that caught the attention of readers.
Both the Santa Barbara Writers Conference and working with Kara Mae Brown led me to discover my three strengths as a writer: humor, dialogue, and character.
Kara Mae did a lot more for me as a writer than help me find those three strengths. In our junior tutorial sections—which I took with fellow student Komal Surani (CCS Writing & Literature '20)—Kara Mae shared her own work, which Komal and myself would provide feedback on and Kara Mae would revise before showing it to us again. Of course, Kara Mae and Komal also read my work and commented, but seeing Kara Mae—an experienced writer—incorporate our comments into her writing taught me more about revising than any lecture, how-to-book, or article from Pinterest.
In addition, during the junior tutorial Kara Mae, Komal, and I collaborated on writing an academic article on creative mentorship which we eventually published: "Deconstructing Authority for Truly Collaborative Mentorship in Undergraduate Creative Writing" that mainly discussed how Kara Mae sharing her own work and collaborating with us benefitted our learning as students. Because I was able to watch and participate in the process of writing the article from conception to completion, I came to understand the structure of academic articles and how to write them.
I had not come to CCS wanting to be a researcher. I just wanted to write fiction, but Kara Mae guided me toward resources and other novels that she thought would influence and support the novel I was writing. As she got to know me as a person and the history of my family as citrus farmers, she proposed I write creative non-fiction. I left CCS as a writer of fiction, creative non-fiction, and academic articles. To me, this is the biggest thing CCS did for me. CCS provided me the close attention of a wonderful mentor and advisor who showed me materials relevant to my writing and convinced me to take a chance on something I hadn't tried before, and frankly, was scared to try. CCS provided me the comfort and reliability that only a small, homely place can offer to give me the courage to reach across genres and step out of my comfort zone.
CCS provided me the comfort and reliability that only a small, homely place can offer to give me the courage to reach across genres and step out of my comfort zone.
I learned that I dislike news journalism because I don't like asking questions people aren't excited to answer from a brief experience with the Daily Nexus, a campus student-run newspaper. In the same vein, I like writing articles on people who are excited to talk about what they do. Two of my favorite articles I wrote while a CCS Student Assistant are "Meet Forrest Galante (CCS Biology '09)" where I wrote about a biologist determined to find and reclassify animals mistakenly deemed extinct, and "The Mixture of Galaxies" about then CCS student Anoop Praturu (CCS Physics '19) who studied the composition of galaxies and galaxy clusters. As one of my last responsibilities at CCS, I had the opportunity to interview newly appointed CCS Dean Gerardo Aldana for a future CCS video introducing him to the CCS community. I learned the goings-on behind the scenes of a literary journal and to not fear rejection while Editor-and-Chief of the Spectrum literary journal. I learned to love attending events in my field and others because the inspiration I left with was more valuable than the nerves that deterred me from going.
My journey of learning will continue at Stony Brook University this fall where I will pursue an MFA in Creative Writing & Literature.
For current and future students, I recommend attending all the free events you can and if there is something you want to get involved with, get involved! UCSB offers so many inspiring events with visiting writers, scientists, academics, and creatives. Don't let fear that you won't like something or won't know anyone there stop you from attending an event or trying something. Odds are, you aren't the only new person to join that club, sport, volunteer group, or newspaper. College is a place of trying things and making new friends. Use the resources given to you so you don't lose out!
Let's stay in touch! Visit my website to keep up with my current writing projects and publications.