Celebrating Kathy Foltz: Three Decades of Teaching, Researching, and Advocating for Student Scholars
December 9, 2022
The Girl from Ohio Who Fell in Love with Cells
"I'm very motivated to contribute in some way to leaving the planet at least somewhat better off than when I arrived."

— Kathy Foltz, CCS Biology Faculty and Professor Emeritus of Molecular, Cellular, and Developmental Biology (MCDB); and CCS Interim Dean (2016-2018)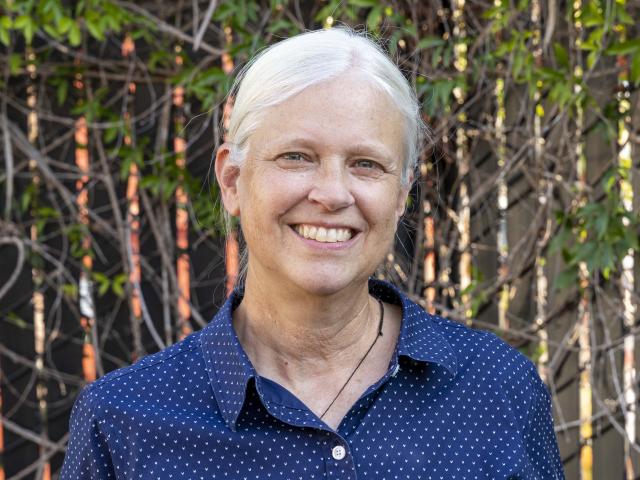 After 30 years of service, Professor Emeritus of Molecular, Cellular, and Developmental Biology (MCDB) and former CCS Interim Dean Kathleen "Kathy" Foltz retired at the end of the 2021-22 academic year. Kathy joined the MCDB faculty at UCSB in 1993 and became a part of the College of Creative Studies (CCS) soon afterwards. Having initially discovered science by accident, Kathy became entranced by the process of discovery, the ebb and flow of research, and the community found in a lab. What had started as an accident became a lifelong passion for mentoring, research, and education.
"Professor Foltz is a role model, not just to our students, but to everyone connected to UCSB and CCS including myself. If we can live up to even a fraction of the example she has established—through her deep commitment to mentoring, scholarship, kindness, curiosity, and so many other values that make this place amazing—we have a bright future ahead indeed."

— CCS Interim Dean Tim Sherwood
The Journey to College and Beyond
"I grew up on a small family dairy farm in rural Ohio," said Kathy. "When I was in the third grade, my father, who not only farmed but worked in a steel mill, gave me a calf." Kathy's calf, named Jingle, eventually turned into a herd of cattle over the next ten years that she sold to help pay for college at Bowling Green State University, the cheapest school she got into. Kathy was a first-generation student and encouraged to pursue an undergraduate education by her family and a high school teacher.
Initially, Kathy struggled with University life. "I had a hard time adjusting," said Kathy. "I didn't feel like I belonged there. I felt like everybody else knew what they were doing and I had no clue what I was doing." She also had to work as a custodian at nights to help pay for school as the cows alone were not enough. But Kathy persevered and a biology class, taught by Professor Baxter, became a turning point in her college career. "It was the first-time science had been presented to me as a process, as a way of trying to understand the world," said Kathy. "The professor was totally into his subject; you could tell he loved it. He taught it more as what we didn't know as opposed to what we thought we knew. I was intrigued by that so I thought I would try it and stick it out."
"It would be hard to find a faculty member more deeply committed—and on so many levels—to fostering undergraduate growth in the sciences, and beyond, as Kathy Foltz."

— In May 2018 as the CCS Interim Dean Foltz received a UCSB Margaret T. Getman Service to Students Award for her commitment to the College's students
As a part of the biology class, there was a mandatory lab component. During the lab, "I fell in love with the microscope, and I fell in love with cells," said Kathy. Kathy had started college as an English major, but Professor Baxter noticed her interest in science and offered her a work-study position in his lab. This allowed Kathy to pay her bills by doing something she loved. "I really liked the culture of the lab," explained Kathy. "I quickly mastered how to set up my own equipment and experiments." Professor Baxter and other research mentors encouraged her to go to graduate school and explained how she could pay for her graduate degree by working as a research or teaching assistant. Kathy ended up at Purdue University for her Ph.D.
"Purdue was a great place to be a graduate student, even though once again I was outside of my comfort zone…I never really felt academically safe, I guess that is the best way to say it," said Kathy. "I lucked out, again, and I had a great Ph.D. mentor, Professor David Asai. He helped me understand what it was going to take for a career in research if that's what I wanted to do." Professor Asai helped Kathy navigate academia and supported her in professional development, including getting her into conferences right away. She came to realize that she could have a career doing research and started to formulate a more directed plan to pursue her passion. After earning her doctorate in Biological Sciences, she became an NIH Postdoctoral Fellow in Cell Biology and Biochemistry at SUNY Stony Brook, where she worked in an intense and fast-paced medical research environment. The experience helped her think about the next stage in her career, when she realized that she wanted to stay in academia, specifically in a tier one research university where she could pursue her passion for research but also support her desire to teach. This led her to UC Santa Barbara, where she found to have the right balance of a strong research component without excluding their undergraduate education mission.
"Kathy Foltz constantly demonstrated her dedication to undergraduate education and encouragement of undergraduate participation in the research endeavors of UCSB during her long service to the university. Very early she earned the Senate Distinguished Teaching Award, and if there were a comparable lifetime award, she would surely have garnered that as well. Her abilities as an instructor are matched by her commitment to creating new courses and venues for students, particularly those underrepresented in the sciences. Indeed, the breadth of her innovations make it difficult to fully measure her impact in introducing students to potential careers in the sciences. It is no surprise, given the undergraduate research focus of CCS, that she has been a faculty member for decades, and served as its Interim Dean in 2016- 2018. Her calm demeanor, kindness, and great breadth of interests made her an outstanding leader and spokeswoman for the College."

— Bruce H. Tiffney, Professor Emeritus of Earth Science and CCS Biology Faculty; CCS Dean (2005-2016); and CCS Interim Dean (2018-2020; summer 2023)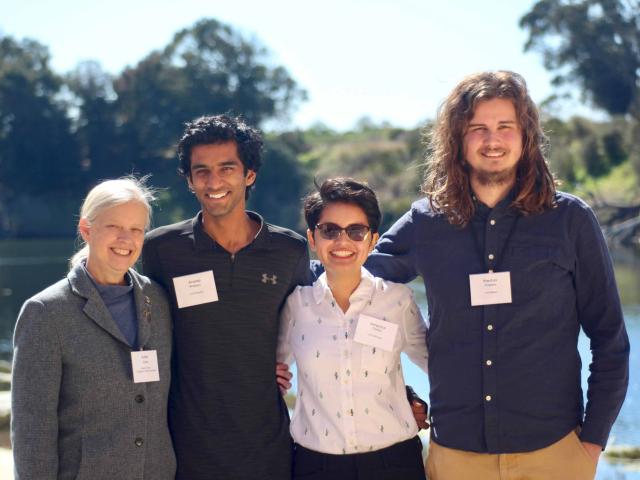 Inspired by the various mentors in her life, Kathy wanted to support students at all levels. "As soon as I arrived on campus [UCSB], I opened up my lab to undergraduates to come work with me," said Kathy. Over the years, Kathy has mentored more than 60 undergraduate students from L&S and CCS directly in her lab and countless other graduate students through her faculty advisory role. "I encourage students to continue to pursue their interests and passions even if they feel like an outsider or unprepared," said Kathy.
"Kathy started as my professor, became a mentor, and is now a friend. Kathy's superpower is evident across so many areas of her life – she has a quiet confidence that is devoid of ego or aggression. What this allows for is space for the other people lucky enough to be in her life to flourish. To friends, she's an amazing listener and you always feel truly at ease speaking your mind because you know she won't judge you."

— Amber Kaplan '06 (CCS Biology)
Kathy is a dedicated teacher and received the Senate Distinguished Teaching award in 1995, the Harold J. Plous Award for Excellence in Research and Teaching in 1996, and the Chancellor's Award for Excellence in Contributions to Undergraduate Research in 1999. "I enjoy teaching and it's usually the case that whatever I happen to be teaching is my favorite," said Kathy. "I really love biology and thinking about how it connects to other disciplines. My approach to teaching is to emphasize problem solving and avoid memorization as much as possible." She has taught a broad range of courses, including lower division and upper division biology courses, as well as classes that encourage students to think about science in a broader context.
"Anyone who has met Kathy knows how inspirational and dedicated to students she truly is. I don't think I would still be an aspiring researcher without her."

— Kathryn Feerst '19 (CCS Biology)
According to Kathy, one of the most challenging courses she taught was the Developmental Biology Lab, an upper division lab course. "With multiple sections and plenty of one-on-one instruction, it was always exhausting but the most rewarding because students had so many "ah-ha!" moments," said Kathy. "Watching a newly fertilized egg divide or seeing the expression of a gene in real time never loses its excitement for me either!"
Beyond courses that only focus on science itself, Kathy has also spearheaded designing courses that teach students about the role and responsibility of science in society. Most notably is the CCS course Science Communication, which teaches students how to share research with both other scientists and the public, and the course Science for the Common Good, designed to introduce undergraduate researchers across disciplines to their role as citizen-scientists and leaders in applying scientific approaches to global problems.
"[Kathy's]...commitment to furthering the creativity of all of her students is unlike anything I have seen in any faculty at UCSB."

— Anoop Praturu '19 (CCS Physics)
Combining her role as teacher and mentor, Kathy has worked to promote underrepresented student involvement in research by creating courses to integrate these students into the research process at UCSB. This includes Fundamentals of Biomedical Research (MCDB 29) and Honors Forum in Molecular, Cellular, Developmental Biology (MCDB 90A), which teach students about the scientific research process and then introduces them to research opportunities on campus.
A driving force behind Kathy's dedication to students has been her belief in "hidden mentoring." "You never know when something you say or do might have an impact on a student," said Kathy. "It's also true that a little kindness has a tremendous ripple effect, but you may never know it."
"I accepted UCSB's offer as a faculty member because I thought it would be the perfect environment for my research program, and it was!" said Kathy. Kathy's research broadly focuses on how eggs turn into embryos. More specifically, she investigates cell-cell recognition in gametes, how sperm and egg interact and fuse, and how this results in launching the egg into the developmental pathway. To study these interactions, she uses marine invertebrates, such as sea urchins, sea stars and ascidians, as model systems and uses molecular, biochemical, cellular imaging, proteomic (the study of proteins), and genetic approaches to investigate the early stages of the development of these organisms.
"I have been able to pursue questions related to how cells recognize and respond to one another in a variety of organisms and had wonderful collaborations with colleagues here and elsewhere," said Kathy. "I have had graduate students, postdocs, and undergraduates work with me on these basic molecular cellular biology questions and it has been a true joy, even on days when things just didn't work…which is very common in biology! I have enjoyed the journey."
"Kathy has been my role model at UCSB. From advising students to chairing committees and making sure all voices are heard I have learned so much from her."

— John Latto, CCS Biology Faculty
Dedication to Service and Leadership
Throughout her career, Professor Foltz has remained dedicated to service. "I have always considered being a faculty member at a Public University a privilege and never took it for granted," said Kathy. "For me, service is just one piece of the picture." As part of this dedication, Kathy has served on the CCS Executive Council, on a number of CCS committees, and served as the program coordinator for CCS Biology. In addition, she has served as co-P.I. for UCSB's Beckman Scholars Program, a member and vice chair of the Graduate Council, and coordinator for the MCDB graduate program.
In 2016, Kathy became the Interim Dean of the College of Creative Studies after Professor Emeritus Bruce Tiffney stepped down. She served as CCS Interim Dean until 2018. "I really look at that time as true service," said Kathy. "A way to give to CCS what it had given to me throughout my time at UCSB."
"Kathy's personable and generous nature extends to all students, even those outside of CCS. She is willing to give undivided attention to anyone in need. Kathy demonstrates that positive guidance can come from any department and she has taken the time to familiarize herself with all students in all majors."

— Bailey Clark '19 (CCS Art)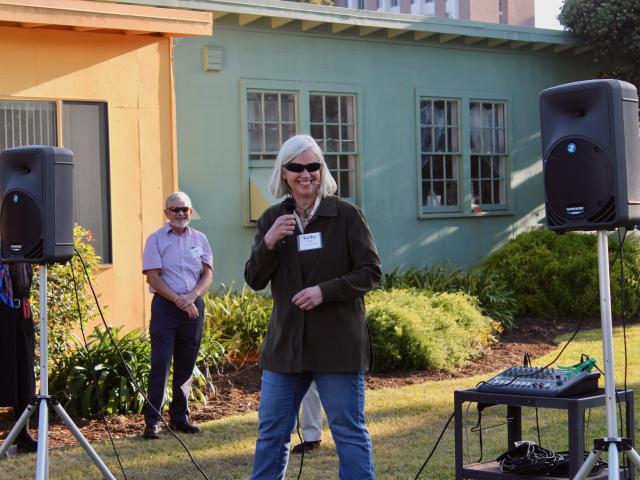 During her tenure as CCS Interim Dean from 2016-2018, Kathy led the College through many milestone events, including its 50th anniversary. "I knew that was going to be an exciting and important time for the college, so wanted to make sure we pulled it together…and offered something that was celebratory of the past but also gave alums and current students a chance to think about the future of CCS," said Kathy. As part of the 50th anniversary celebration, Kathy led a process to design the College's first official logo. With input from CCS students, faculty, and staff, the logo was created by CCS Art Alumnus Jon Ritt and focused on three key themes of CCS: unconventional, individual, and discovery. In addition to the logo, Kathy wanted to celebrate the 50th anniversary by engaging with the CCS community, which led her to launch the 50 for 50 initiative. This initiative showcased 50 individuals and activities during the 2017-2018 academic year to share the rich history of CCS and some of the amazing people who made this unconventional College possible.
Kathy also shepherded the College's Marine Science major through the campus' rigorous major creation process. "I was really excited about pushing through the new interdisciplinary major, Marine Science, while I was Interim Dean because it represented something that was not being done anywhere else on campus let alone at many other universities at the undergraduate level and CCS seemed an ideal home," said Kathy. Marine Science has now officially launched at the College and started accepting applications in Fall 2022.
Kathy's commitment to research equity also led her to open the CCS Summer Undergraduate Research Fellowship (SURF) program to all majors and establish The Create Fund at the College to provide summer fellowship support. "The Create Fund really came out of getting to know students in the Music Composition, Art, and Writing & Literature programs who were doing research in the summers but historically had not been applying for summer support," explained Kathy. "One of the things CCS taught me over the years was the power of collaboration and of the process of doing and creating. It seemed CCS could also initiate efforts to support all students' independent research and creative efforts in the College, whether in a lab, at a field site, a studio or a library."
"There are countless stories about how Kathy made a difference in our lives. I hope she knows how grateful we are to have had the chance to work with such a skilled, strong, compassionate leader. She sets the bar high, and her contributions to the College and those around her will be felt long into the future."

— Jen Johansen, CCS Academic Personnel Manager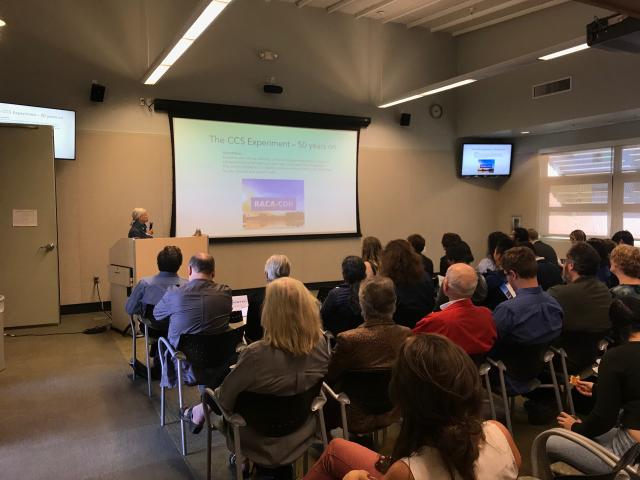 Launched in 1985, SURF provides CCS students the opportunity to conduct research, produce original creative work, or innovate entrepreneurial-focused projects guided by UC Santa Barbara faculty. Accompanying the launch of The Create Fund was the inaugural CCS Research and Creative Activities Conference (RACA-CON). The conference has since become a hallmark CCS event and an opportunity to celebrate student success with the broader community. SURF fellows, along with other CCS students, present their research and creative projects to the CCS community of faculty, students, parents, alumni, and friends.
Looking to the future, Kathy sees a lot of potential in the College. "I think that no matter how CCS evolves in the next 50 years, the core piece will always be students working with faculty to create new knowledge," said Kathy. "If we can support them in that, I am confident that they will make a difference in the world."
Currently, Kathy is catching up on writing manuscripts and tying up other loose ends before figuring out exactly what the next chapter in her life will be, though her passion for service remains unabated. "I'm very motivated to contribute in some way to leaving the planet at least somewhat better off than when I arrived. Some days it seems impossible given the news and even what we see in our own backyards, but just because the work is hard doesn't mean we shouldn't do it," said Kathy. "In fact, just the opposite."
To celebrate Kathy's decades of service, CCS launched the Kathleen Foltz Summer Undergraduate Research Fellowship Fund in Fall 2022. The fund provides summer research fellowship support to qualified CCS students in Biology, who will be named Foltz Fellows.